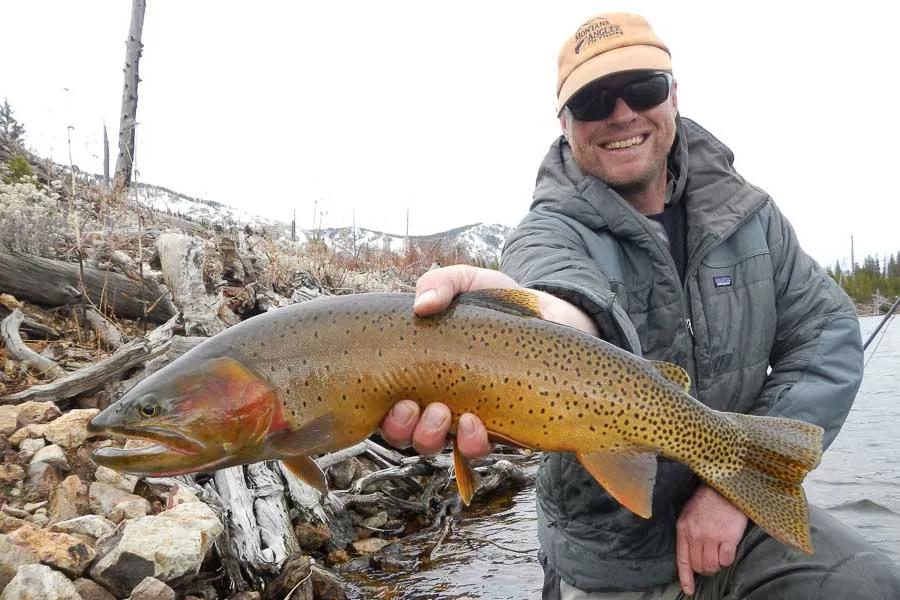 On my very first trip to Yellowstone Park in the early '70s, I stopped at Bud Lilly's Fly Shop in West Yellowstone. My two fly boxes in those days held mostly my own attractor abominations. I was eager to gain some good advice, as I was camped at Madison Campground. My first day fishing produced pretty slim pickings. As a young man in my 20s, I was mostly familiar with creek fishing for rainbows and brookies on the eastern slopes of the Sierras. I had "novice" written across my forehead.
Bud Lilly assisted me and never gave me the bum's rush when he found out that I was near broke and planned only to purchase three or four flies. He dropped three huge Bitch Creek nymphs into the palm of my hand and told me how to fish them. I had never seen such leviathan monsters. I was incredulous. I wasn't even sure how well I could cast one. But oh, how sweet it was when I landed a 19-inch brown out of a meadow pool on the Gibbon River, a short hike from the campground. Later that evening I cast to the same trailing piece of grass, the exact same spot, and pulled in an 18-inch rainbow.
One of my sons was horrified a few years ago when he found the photographs of me holding up those bloody corpses. I explained to him the mentality of those days and quickly shared with him my conversion during that same year. I suppose as a final act of contrition I should burn the photographs, but I have put off that decision for lat-er. Ten years later I moved to Jackson, Wyoming, and I had another great Yellowstone fishing experience, which I will always treasure. I backpacked to the outlet of Heart Lake as a fishing guide and leader of five teenage boys.
The last trail hike I had made was as a Boy Scout. My pack was an old hand-me-down from my father, and it didn't have a padded hip belt. We had reserved the last campground at the outlet of Heart Lake. Getting a late start, we arrived at the ranger station on the lake and made arrangements to sleep at a mid-way campsite. One of my attendees had just leaned over the lake to scoop up a handful of water, and his sleeping bag fell into the lake. It slowly expanded with water like a graham cracker in milk.
It was mid-June and cold. During the day I had already lightened the load of one boy's pack, and I was exhausted. That night I lay in a small tent with nothing to keep me warm but my clothes. I was shivering. Giving up my sleeping bag to the youth was my responsibility, and I had no bitterness until early in the morning when I was shaking terribly from the cold. This homophobic young man in my warm sleeping bag wouldn't let me get near him!
The next day four of the boys pulled off the trail a mile from the campsite to fish the rising sippers on the lake. I was stuck with the frail young man who by this time had passed on the remaining heavy items from his pack to mine. Arriving at the camp we were so exhausted that all we could do was collapse to the ground. The youth was so exhausted that he didn't bother extricating himself from his nearly empty pack. We were just a few feet away from the outlet creek. The boy turned to me and said, "I'll never do this again for the rest of my life. I'm sorry you had to carry all my stuff."
"It's ok," I said. "And just for the record, I've decided that I'll never backpack again for the rest of my life! My feet are killing me, but I'm too pooped to take off my boots."
Suddenly, a cannonball dropped into the small creek beside us. Thinking the troop was behind us up the slope, I yelled out, "Knock it off!" When the next rock slammed the water, we waited, but there was no response.
The young man, struggling out of his pack, looked up the slope and then gazed at the water. "Dave, those aren't rocks. They're fish. They're huge fish. They're feeding right in front of us, Dave."
"Go ahead, sport. They're all yours," I said.
"Maybe later," the lad replied. Within two seconds of this arcane conversation, we were both energized and racing to present the first cast. Within the next hour or two, we had both landed seven or eight spawners returning to the lake. All of these fish ranged in size from 18 to 20 inches, and all of them were caught on size 12 attractor patterns. At the outlet, I caught and measured a 24-inch male that I landed on a small Muddler. All of the fish were caught along a quarter-mile, flat stretch of water before the creek plummeted down the canyon. The remaining young men boisterously appeared a few hours later bragging about catching a ton of 16-inch cuts along the shoreline. We nonchalantly told our tale, which earned nothing but hoots of derision.
For the next two days we caught the same fish and more. Each time one of us stalked the water's edge, we had to scale back our offerings until the last fish landed was caught on a size 20 Adams. I will never forget those two days.
By David Archer
Receive fresh articles via email!